This is a work-in-progress project with the intention of posting obscure music
(single digit to several thousand views) from a variety of genres that I encounter
when going further online than god ever intended. If all goes well, it will be
updated daily, and is the spiritual successor to
this
dead site.
░▒▓ ▣ ▣ ▣ ▣ ▣ ▣ ▣ ▣ ▣ ▣ ▣ ▣ ▣ ▣ ▣ ▣ ▣ ▣ ▓▒░
July 28th, 2021 - sky 空 -countryside 田舎
Year: 2015
Label: None
Genre: Ambient
Another one of Lyndon (暗い自然)'s project, sky 空 combined looping, drony pieces that could go on for an hour
or more with shorter tracks with more vaporwave-ish melodies. countryside 田 is neither, really - a windchime
orbiting around about the same melody for 20 minutes. It sounds minimalistic and could be boring in the wrong hands but
here it's perfect. It just sounds so absolutely pure and pretty that it can't really have anything to do with real
life. It's an ideal soundtrack for idealistic daydreaming, preferable at unhealthily high altitudes (laying face down
in bed will also do.) Despite being one of my favorite ambient tracks, it was deleted with the rest of the bandcamp page,
which luckily was on archive.org and the mega.nz backup links were still online. (Also, I believe he was 15 when he did this,
which is also quite cool. It reminds me of Satoshi Ashikawa's Still Way.)
Download it
here
.
░▒▓ ▣ ▣ ▣ ▣ ▣ ▣ ▣ ▣ ▣ ▣ ▣ ▣ ▣ ▣ ▣ ▣ ▣ ▣ ▓▒░
July 27th, 2021 - Lolicoin - LOLICOIN GAIDEN (BANNED FROM LOLICORE)
Year: 2020
Label: None
Genre: Lolicore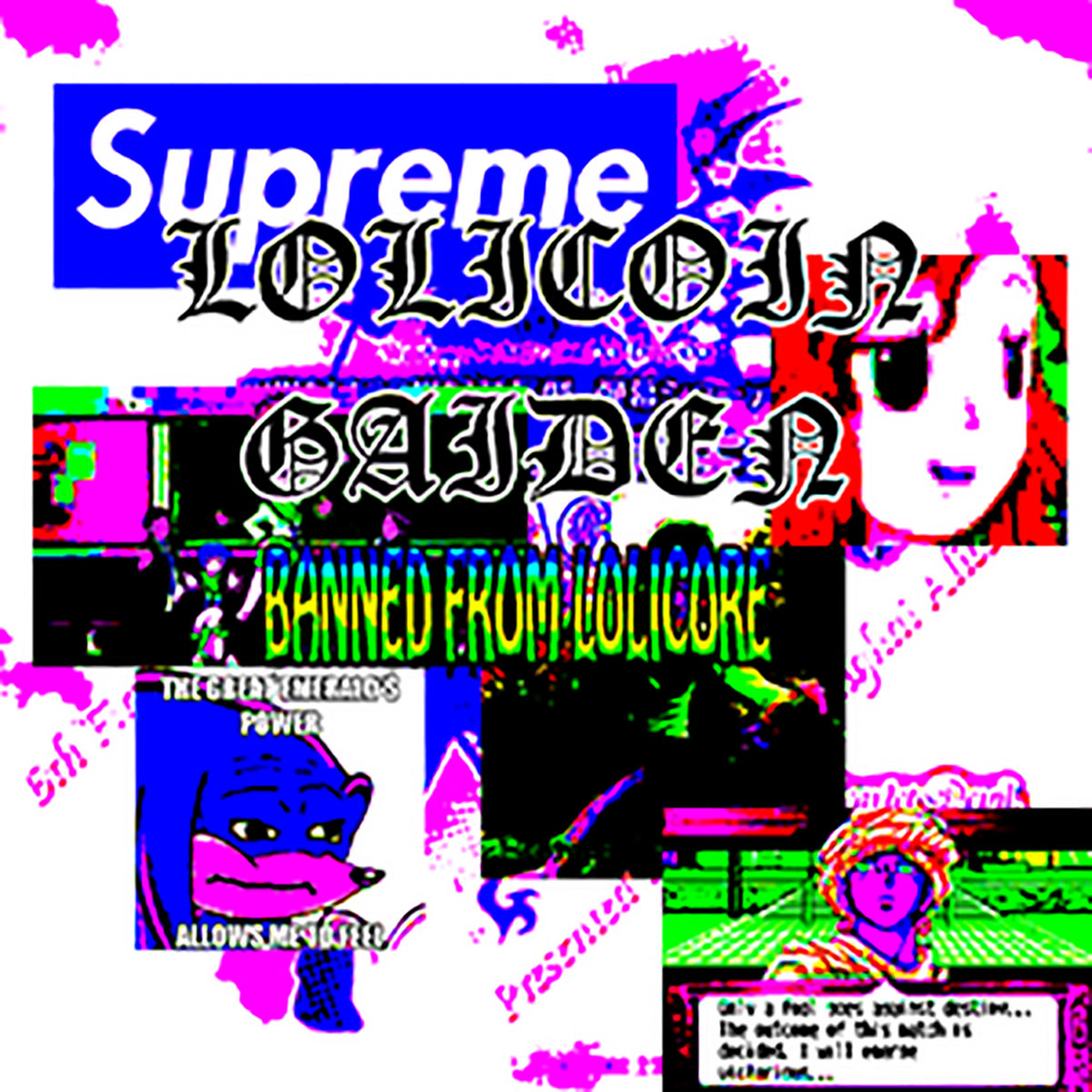 (This was a last minute choice but whatever.) Lolicoin as a whole is recommended, but I decided to showcase
a release that wasn't a behemoth like some of his other stuff and was more of an EP with higher quality overall.
BANNED FROM LOLICORE is a fun little collection of hardcore / speedcore tunes with an interesting variety of how
those elements were used, in addition to a random mashup of a track ("ripping off japshitfun") and an odd glitchy
crushed trap remix ("pressure.") It's ostensibly coated in memes and some edginess like the rest of Lolicoin's stuff,
but still does what it does well. Headbanging internet rave music to disappoint your parents to.
Download it
here
.
░▒▓ ▣ ▣ ▣ ▣ ▣ ▣ ▣ ▣ ▣ ▣ ▣ ▣ ▣ ▣ ▣ ▣ ▣ ▣ ▓▒░
July 26th, 2021 - Azuse - Osaka
Year: 2018
Label: None
Genre: Ambient, lobit
This release is 750 kilobytes (I have text files bigger than that) but the lobit, 8kbps nature of it doesn't
hold it back, nor does the fact it kind of looks like a joke. It's one of my favorite ambient albums -
just conjures up images of computers running in some frozen bunker somewhere, endless snowstorms, and
an aimless existence hiding alone from a nuclear winter, without the overt edginess and cliches of dark
ambient (which this isn't.) Maybe I'm reading too much into it considering it's actually themed around
Osaka but it's very evocative and enjoyable ambient nevertheless. "untitled 1" is my personal favorite,
and while I was gonna say it deserves more than to sit hidden away in some tiny corner of an obscure
dead label on archive.org, it wouldn't feel right for it to be anything else.
Download it
here
.
░▒▓ ▣ ▣ ▣ ▣ ▣ ▣ ▣ ▣ ▣ ▣ ▣ ▣ ▣ ▣ ▣ ▣ ▣ ▣ ▓▒░
July 25th, 2021 - Favorite 水 / Tina Dartrix - The Basket Catchers
Year: 2019
Label: None
Genre: Post-nightcore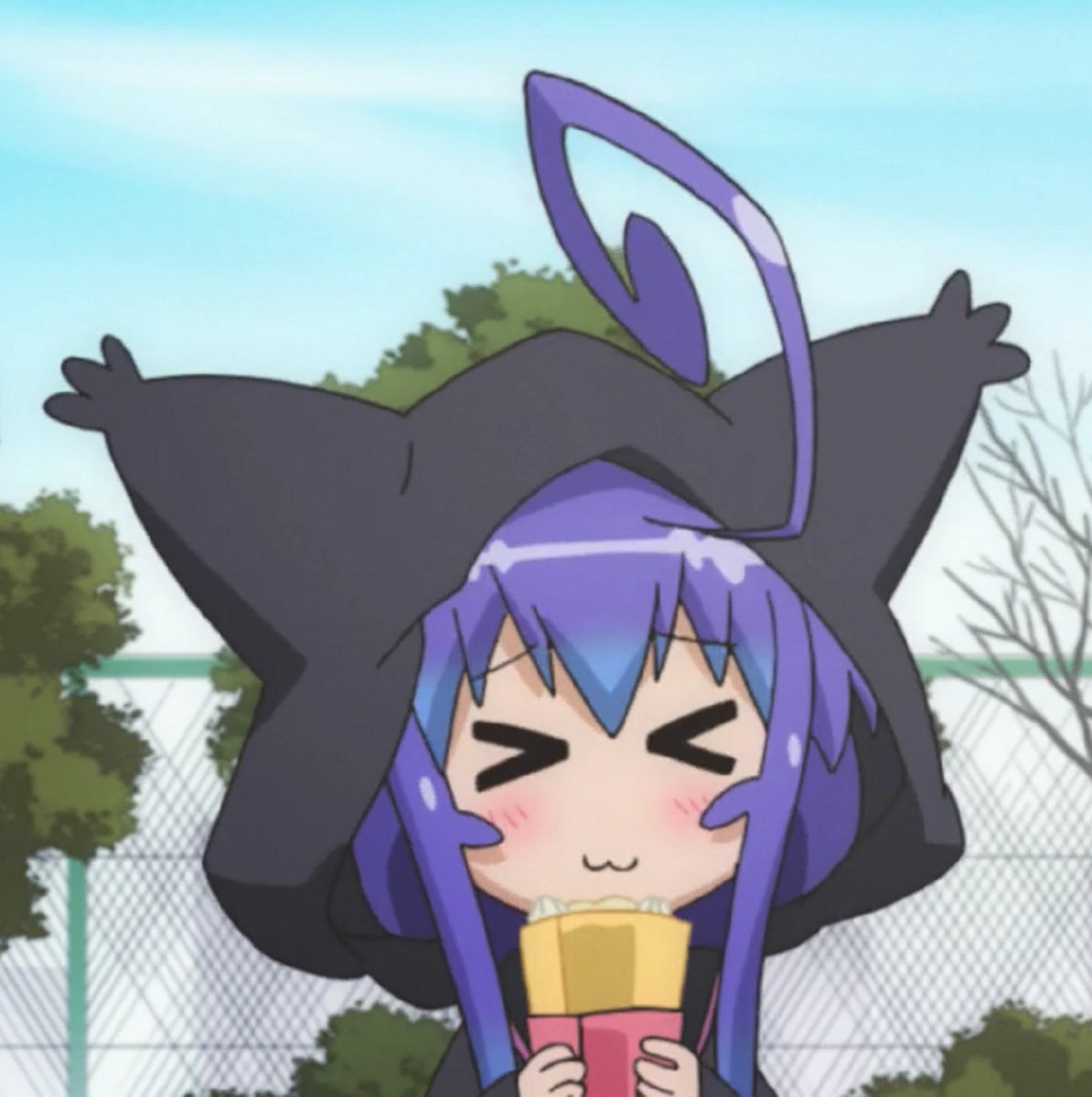 I knew I wanted to do Favorite 水 but didn't know which I wanted to include, but upon relistening to
the Tina Dartrix side I realized this was the one. Post-nightcore is a weird genre plagued by memeiness
and inaccessibility but this split really captures it's potential. Favorite 水 provides tracks whose
samples have no business being given the nightcore treatment (4 and 6) and a more conventional but absurdly
happy and catchy track (5,) and Tina's side is sleepy, vague, and hypnogogic. Weird that a nightcore artist
would capture what most vaporwave artists chase but never really achieve. My favorite is the aptly titled
"sleep" (I listened to it on loop when half awake for hours sick in the ICU once,) but the whole thing is
well worth your time.
Download it
here
.
░▒▓ ▣ ▣ ▣ ▣ ▣ ▣ ▣ ▣ ▣ ▣ ▣ ▣ ▣ ▣ ▣ ▣ ▣ ▣ ▓▒░
July 24th, 2021 - Portable Document Format - stop kissing in the middle of the hallway
Year: 2019
Label: None
Genre: Emo, lofi, ambient
Emo is often parodied (and probably for good reason) but it has a lot of good aspects, all of which are
embodied in a little bundle here. It is intensely angsty, teenaged, and amateur, with very pretty lofi
melodies, teenage poetry lyrics, and surprisingly varied styles. Spoken word over ambient, acoustic emo
songs, and distorted almost manic tracks. It's seemingly the artist's (later known as willow for bedroom
punk, h3artcrush for scenecore, and luvwillow☆ currently) first release and it shows but in a wonderful
way. It's not angry but instead drowning in self pity and ruminating and is an ideal soundtrack to a
lonely high school existence.
Download it
here
.
░▒▓ ▣ ▣ ▣ ▣ ▣ ▣ ▣ ▣ ▣ ▣ ▣ ▣ ▣ ▣ ▣ ▣ ▣ ▣ ▓▒░
July 23th, 2021 - 暗い自然 - 氷床 Earth
Year: 2016
Label: BLCR Laboratories
Genre: Ambient, deathdream
I argued with myself a bit about what to put for today because I had so many ideas, but there'll be time enough
for them all eventually, so I settled on an extremely underrated ambient release. Spawned from the prolific
2047 부드러운 아픈 and microgenre deathdream (a subset of ambient vaporwave, it seems,) it was nuked with most
of their discography following a copyright controversy. I might post more rarer releases from Lyndon because
they have a beautiful balance of melody and ambient drone. The songs definitely move but at a glacial pace,
a balance most ambient music misses. 氷床 Earth sounds exactly how it looks - cold, blurry, weary, a soundtrack
to a lonely life in a nuclear winter. It feels like living and dying in Siberia or a shut-in slowly giving up
hope. I listened to it for days on loop when I was sick and reading Girl's Last Tour.
Download it
here
.
░▒▓ ▣ ▣ ▣ ▣ ▣ ▣ ▣ ▣ ▣ ▣ ▣ ▣ ▣ ▣ ▣ ▣ ▣ ▣ ▓▒░
July 22th, 2021 - raccoon king - flowers (demos and covers)
Year: 2021
Label: None
Genre: Bedroom punk
I have mixed feelings about the weird scene stuff emerging from Soundcloud but this is some of the best that
community has to offer. Nightcored, autotuned vocals with edgy lyrics about being terminally online and hating
yourself set to fantastic high energy lofi punk guitar instrumentals. There's some acoustic songs, some really
short high octane songs, some instrumentals, and whatnot. He was also kind enough to put lyrics with it too, a
welcome change from the normally unclear lyrics in that genre. It begins with a sample from a school shooter
interrogation, which just about sets the stage for what's to come.
Check it out
here
. As far as I'm aware it's not officially up for download anywhere, but I took the liberty of
ripping it, adding metadata, and uploading it
here
for the offline player of your choice.
░▒▓ ▣ ▣ ▣ ▣ ▣ ▣ ▣ ▣ ▣ ▣ ▣ ▣ ▣ ▣ ▣ ▣ ▣ ▣ ▓▒░
July 21th, 2021 - KUSOWANK x Ninja McTits – いもうとメイド
Year: 2015
Label: Tsundere Violence
Genre: Noise, lolicore
Jeez, almost forgot today. Anyway, here's one of my favorite noise releases. KUSOWANK's side (a CDR alias, too)
is some unique short noise tracks using Kyary Pamyu Pamyu samples, drum loops, gore vocals, sweet glitchy sounds,
like the most extreme of Hikaru's kusoikore experiments without their "conventional" basis. The Ninja McTits side
really shines in my opinion and is the biggest influence on my noise music experiments. It's smashed together samples
from god knows where - OSTs, rock, breakcore, shards of McTit's music library - pasted together with noise blasts and
saved at +30 decibels or something. It's all jump cuts and sudden changes and I would love to see a sample listing for
it one day but that'll never happen.
Listen to and download it
here
.
░▒▓ ▣ ▣ ▣ ▣ ▣ ▣ ▣ ▣ ▣ ▣ ▣ ▣ ▣ ▣ ▣ ▣ ▣ ▣ ▓▒░
July 20th, 2021 - sorryman / torrent my pets - white room
Year: 2018
Label: None
Genre: Deep internet
Deep internet is a micromovement that spawned from /mu/ and Bandcamp that used samples from YouTube videos with
virtually no views. In practice, this led to elements of ambient, vaporwave, field recordings, spoken word,
and sound collage. This is my favorite release in the scene as a whole - it combines genuinely beautiful slowed
drone slush with personal clips of stranger's lives into a varied whole. The album feels like being half-awake
and barely paying attention to the world around you. I listened to it once when alone several floors beneath
a college campus.
Listen to and download it
here
.
░▒▓ ▣ ▣ ▣ ▣ ▣ ▣ ▣ ▣ ▣ ▣ ▣ ▣ ▣ ▣ ▣ ▣ ▣ ▣ ▓▒░
July 19th, 2021 - Various - Sloppy Seconds
Year: 2007
Label: Obscurica
Genre: Mostly noise and experimental
There have been innumerable compilations themed around short tracks - 13 seconds, 5 seconds, 3 seconds,
and many one-second compilations, cramming as much distinct sound into as little time as possible. I wanted
to start off this project with one of them, and the one that stood out most was this. It's scale is unheard
of for releases of this type: 1740 songs, 1740 artists, 29 minutes, and I was surprised when going through the
tracklist and running into artists I recognized almost every minute, including many prominent artists of the
2000s netlabel / digigrind / noise scene. This has more views than most of what I'll post here, but it deserves far more.
Browse the tracklist
here
and download it
here
.
░▒▓ ▣ ▣ ▣ ▣ ▣ ▣ ▣ ▣ ▣ ▣ ▣ ▣ ▣ ▣ ▣ ▣ ▣ ▣ ▓▒░